NOVEMBER NEWSLETTER
As we round out 2021, we have nothing but gratitude for our community, team, and space. For many, Defined is not only a place to get stronger, but also where we come to feel more connected, share and receive support, and have more fun with like-minded people. Through the years, you have shown us that Defined athletes are committed. Defined athletes are resilient. Defined athletes are proud.
For all you are and what you strive for: Thank you.
You are the heart of Defined.
As we roll into sweatshirt season, take note of our upcoming events, classes, and holiday schedule. We're looking forward to Strength Doubles Day, Yoga, and the welcoming of our two newest coaches: Sergio and Jarryd.
SAVE THE DATES.
Saturday, 11/6: Strength Doubles Day (SOLD OUT – if you want to support | volunteer please email [email protected])
Sunday, 11/7: Foundations at 10:20AM
Sunday, 11/14: Recovery Yoga at 11:30AM
Sunday, 11/21: Recovery Yoga at 11:30AM
Sunday, 12/5: Recovery Yoga at 11:30AM
Sunday, 12/19: Recovery Yoga at 11:30AM
New apparel is on its way.
Expect themed items for purchase at Strength Doubles Day and a November pre-order to follow. Start making your list for the holidays!
DEFINED HOLIDAY SCHEDULE | THANKSGIVING
Wednesday, 11/24: NO 6:20PM or 7:30PM
Thursday, 11/25: CLOSED
Friday, 11/26: 9:10AM / 10:20AM / 11:30AM
Saturday, 11/27: 8AM DefCon / 9:10AM Strength Cafe / 10:20AM Strength Cafe
Sunday, 11/28: 8AM DefCon / 9:10AM DefCon / 10:20AM DefCon
STRENGTH DOUBLES DAY: Stronger, together!
Join us on Saturday, 11/6 from 9:10am – 11:20am for extended strength training with a theme: Teams of 2, working together to establish a 2 rep max Front Squat, a 3 rep max Push Press, and a 4 rep max Deadlift. Scores will be calculated by team bodyweight divided by total pounds lifted from both lifters in all 3 lifts. We'll end the training day with a strength-based metcon, which will also be factored into your team score.
THE DETAILS: Teams will have designated time on their platform to hit their lifts. Athletes can take as many warm-up and official lift attempts as they'd like within that time. Miss a lift? No big deal. Re-rack, take weight off, add weight on, and try again. The only rule? Each team must receive "passing lift approval" from a coach or lifting representative for the day.
REGISTRATION: Goes live next week! This mini-event is free to all Defined athletes and for Defined athletes only. All participants must RSVP though Zen Planner; like we do for class. You don't need a teammate to register!  Teammate assignments and weigh-ins will take place on 11/6.
THE GOAL? To share the enjoyment of lifting heavy with a teammate. Using the support of our community, we'll break through personal limitations, together!
Coaches David, Allyn, Matt, Dana, and Jarryd can't wait to lift with you! Questions? Email Coach David at [email protected].
WELCOME TO THE TEAM, Coach Sergio and Coach Jarryd!
Meet our newest Defined athletes turned coaches. We're grateful for their dedication to our community and eagerness to support our athletes. Highly-knowledgeable and good vibe kind-of-guys, Sergio and Jarryd are great additions to this team. Join us in celebrating their growth and achievements.
JARRYD WIDHALM | Coach 
FROM: Aurora, Nebraska; but most recently lived in Mexico City from 2015-2020.
KNOWN FOR: His smile, when he's not wearing a mask!  And requesting Country Music during DefCon. (Try to NOT P.R. listening to Garth Brooks. I dare you!)
EXPERIENCE: CrossFit Level 1 Trainer, CrossFit training since 2013, experienced with and knowledgeable about knee injury rehabilitation
LIKES: Grilling on his patio, sharing knowledge, bike rides on the Lakefront Trail, golf
LOVES: His Old English Sheepdog, Bondi. He's 9 and a half years old and they're both growing their hair out.
Jarryd brings enthusiasm and positivity to everything he does. He is a consultant for an Analytics and Advice firm where he is focused on helping clients with Employee Engagement and Customer Engagement initiatives. He started doing CrossFit in 2013 in Des Moines, Iowa, and loved it from the first 2 minutes of the first introductory Foundations class, which included burpees!
Jarryd loves the constant variation and high intensity workouts at Defined Training. He is excited to join the amazing coaching staff, and  is looking forward to helping people achieve their fitness goals.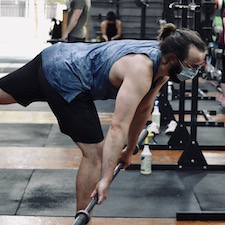 SERGIO VALADEZ | Coach
FROM: Chicago; raised on the Southside, lives on the Northside
KNOWN FOR: Sarcasm. And his lavish good looks.
EXPERIENCE: CrossFit Level 1 Trainer, American Powerlifting Federation Member, Spartan Race Finisher, double master's degree in Electrical and Biomedical Engineering from SIU Carbondale.
LIKES: Waking up at 5am, black coffee
LOVES: Traveling, cooking, baking, gaming, getting stronger
Sergio started his CrossFit journey back in 2013 and hasn't looked back since. A former Charter Fitness member, his fitness routine once felt unorganized; and he relied on weight lifting machines, the treadmill, and an occasional racquetball game for his training. While his first CrossFit workout, Annie, left him feeling challenged and defeated, he chose to stick with it. He remembers telling himself: "Follow the process, and the results will come." And then they did.
Sergio's coaching style is genuine: he's eager to share his passion for CrossFit with others, knowing it's physical, emotional, and social impacts. CrossFit has taught him what it means to be comfortable being uncomfortable; which is why he prioritizes a motivational approach to teaching. He sees the potential in all athletes and will cheer them on to the finish line.
When he's not on the training floor, Sergio works at IBM as a Sales Engineer. For 7 years, he's helped clients manage personal data and protect themselves from cybersecurity threats. "All big nerdy stuff," he says. But he loves his job and wouldn't trade it for anything else.
Stay Strong. 
Team Defined
Defined
3834 N. Broadway St.
Chicago, IL 60613
Member Links That Are Important
SugarWOD (programming platform) 
App
** password for our gym is: morethanagym
.
.
.
.